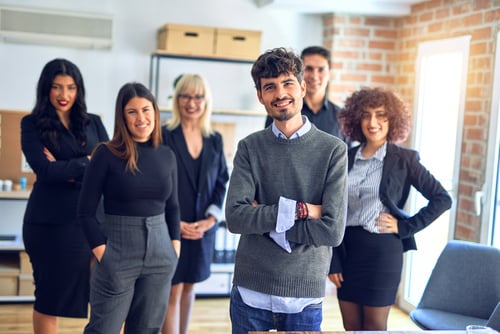 Every company has HR needs, such as payroll and compliance, they must address. While not always the most exciting work, it's crucial for businesses of any size. 
Because of this type of work's complexities, many small businesses outsource their HR tasks to a Professional Employer Organization (PEO). A PEO is a comprehensive HR outsourcing company that provides you with a host of HR services that can evolve as your company grows.
What's the Average Size Company for a PEO?
PEOs generally serve companies with around 10 to 100 employees. At present, PEOs represent 13.7% of employment for companies within that size range.
But you don't have to be in that range to get positive results from a PEO partnership. Companies as small as five employees and larger than 500 still receive benefits from partnering with a PEO. From lowered insurance costs to better and affordable benefits, companies of nearly any size can outsource their HR needs to a PEO.
How Small Businesses Benefit from a PEO
PEOs provide small businesses with substantial benefits. A good PEO will offer you HR support without replacing your internal team (if you have one) instead of complementing them by taking on the burden of complex and mundane HR tasks. PEOs staff HR experts who can help guide you through any number of highly complex and legally tumultuous situations.
Best of all, a PEO will grow with you. It can consolidate your HR and free up you and your executives to focus on your staff's needs, providing an attractive workplace culture. It also frees you to focus on growing your business quickly and sustainably, something your PEO does with you. 
Ensures Payroll Compliance
Payroll is complex, and you must complete it accurately every time. From overtime calculations to tax remittance, you'll need to deal with payroll no matter how big or small your business is.
Having only one or two employees can create issues. Especially if you operate in more than one state or have remote workers, you will be subject to multiple state payroll laws and regulations. A PEO staffs payroll experts who can set up the entire process for you and ensure your payroll is accurate and compliant each time.
Improved Benefits Packages
One of the biggest problems small businesses face when dealing with benefits is finding something affordable, especially with benefits such as healthcare coverage. When you partner with a PEO, they become the employer of record for your employees. This relationship maintains your authority over your team and preserves your ability to direct your staff.
However, it allows you to access the PEO's master benefits plan, negotiated at scale by experts. You gain access to high-quality healthcare plans and other benefits at costs you and your employees can afford.
401(k) and Retirement Planning
Another benefit most employees seek is 401(k) and other retirement plan options. Because a 401(k) is a retirement plan only available through an employer, this benefit could give you a competitive advantage.
But offering and administering a 401(k) and other retirement plans come with administrative costs. When you partner with a PEO, they shoulder the burden of those costs and the administrative procedures related to retirement plans, including annual reporting and testing requirements. 
Offers Guidance for HR Services
HR can be complex, especially as you add more employees. Working with a PEO can help your HR team focus on the essentials of your business—your staff. They can free up internal employees to give workers the focus and attention they need to support and guide your company so that your team is satisfied and productive.
The PEO can act as your on-call HR support. They'll guide you through complex situations and help you plan to ensure your company continues to grow while maintaining compliance and helping you lower costs.
PEOs Oversee Your Company's Growth
PEOs understand your company's needs. They know what it takes to get you to the next level. They also know that you're a growing company with changing needs. Too many HR outsourcing companies only provide you with static services. A PEO is different.
Your PEO will form a partnership with you. They'll be able to adapt and grow as your company grows. For example, as you grow and begin to offer more benefits to your employees, you'll need to know about implementing 401(k) plans, something the PEO will be able to handle for you.
How Large Companies Benefit from a PEO
Despite how large companies have access to increased benefits, the services and support a PEO can provide still add value by helping larger companies maintain and adapt their internal structures. A PEO can help larger companies in the same way they help smaller companies, as they're able to adapt to changing company needs and sizes.
A PEO can smoothly guide larger companies through their 401(k) planning. Retirement plans are not easy to implement and administer, as they come with many regulations. However, with a PEO at your side, you can ensure smooth implementation and compliance with all relevant laws and regulations, ensuring that your company can continue to attract and retain top talent in your industry.
Choose the Right PEO for Your Business
Choosing the right PEO for your business can seem like a daunting task. It doesn't have to be—you need to know what to look for and how the PEO can help your business. By ensuring compliance with regulations and helping to provide you with quality benefits to offer your employees, the PEO you choose should be able to adapt to your business needs as you grow.