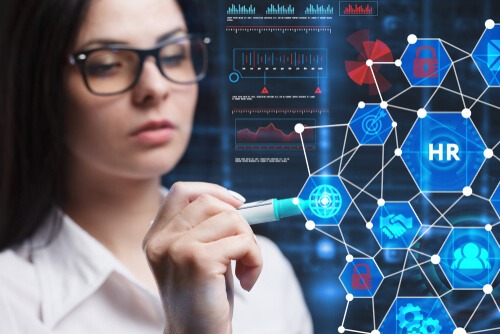 Human resources systems have become increasingly complex and even overwhelmingly burdensome to many employers – especially as their business grows, taking on more staff and responsibility. Strict adherence to policies regarding all aspects of employment, benefits, and staff tracking is difficult for companies of all sizes, but compliance is essential for protecting your organization. However, many businesses are starting to incorporate HR technology into their processes, which offers AI, automation, and workflow solutions that make the burden easier. Learn more about the types of HR technology on the market, the benefits of adding HR programs to your business operations and using PEOs to stay on top of HR processes.
Streamlining Complex Processes with HR Software
Automation tools and smart software don't replace your team – instead, they help your team manage complex and tedious tasks requiring stringent adherence to compliance regulations. Many businesses worry that software can frustrate employees or lower employee morale while not addressing their unique needs. However, many HR tools are built specifically for businesses in your industry, geographic region, or individual market, and they can quickly support your employees' efforts to improve processes and help streamline their tasks.
Some of the most used HR software platforms are built for these functions:
Time and Attendance Tracking: Increasingly robust software can monitor active employee hours for salaried employees, keep track of scheduled shifts and working hours, and more. Whether you want to ensure your store has adequate coverage or you're carefully tracking overtime to ensure compliance with state and federal mandates, this software can instantly generate, compile, and analyze data from multiple worksites.
Implementing Automation for Workflows: HR processes often include multiple steps and have complex workflows that open the door to errors. For example, without standardized workflows, employees may forget to respond to a notice on time or fall short of required steps for payroll and coordinating changes in employee benefits. Automation can ensure in-progress tasks move seamlessly from one desk to the next or end alerts if tasks sit stagnant for too long.

Streamlined Onboarding and Training Processes:

 Successful onboarding processes are vital for every business. Organizations see an 82% increase in retention when they have an effective onboarding process – on the other hand, 15% of former employees cite poor onboarding as their reason for leaving a job within three months. HR technology can provide a tracking dashboard for the HR team, generate individual portals for new employees, and house resources for everyone taking part in onboarding.
Employee Self-Service for Benefits Access: Today's employees expect to have real-time access to their benefits accounts and dashboards to stay in control of their financial lives. It includes everything from tracking their expenses through an FSA account to requesting time off to making changes in their retirement account contributions. Having employees send email requests to HR to act on their behalf is cumbersome, prone to error, and can be a security risk. But self-directed software minimizes liability and delays while increasing employee satisfaction.
Automated HR Reporting: One of the most important—and most tedious—aspects of HR is generating reports and managing risks. Software systems with access to the relevant data can provide automated HR reporting. This opens the door to efficient internal audits, fast compliance with reporting requirements, and easy insight into the organization.
Benefits of HR Technology
There are several advantages to replacing manual task completion with automated or tech-assisted processes. Some of the critical benefits HR technology can provide for your business are:
1. Increased Efficiency
with
Repetitive Tasks
Instead of spending hours every month manually compiling data or checking for errors, employees can use software to check records, manage onboarding, complete payroll, generate reports, and monitor for late or incomplete tasks.
2. Lowers the Risk of Error
with
Improved Accuracy
Manual data entry is extremely prone to error, especially regarding numbers. By using integrated software to move data across platforms, you can reduce or virtually eliminate errors that cost money to fix or can result in compliance violations.
3. Productivity Gains Lead to Improved Output
Increased efficiency and accuracy make your organization stronger. You can produce reports and file documentation on time and with more confidence. Your team can also spend more time addressing more complex HR-related tasks when software handles tedious but essential work. This boost in productivity also saves your organization money by cutting down on the hours needed for each task.
4. Flexibility to Customize Processes
Today's HR software solutions offer modularity and customizable processes. Instead of adapting your processes and work styles around stiff software protocols, you can customize your digital workflows, fields, and visuals to suit your organization's needs and preferences.
5. Improves Employee Experience
with
Seamless Interactions
Automating tasks that employees find tedious and unlikeable can significantly increase employee morale. HR staff get to work on more fulfilling projects, more easily stay on top of their workloads, and face a much smaller risk of burnout. General employees can also interact with the benefits and internal programs more self-sufficiently.
PEOs Provide More Than Just Software to Streamline Your Complex Systems
HR technology strengthens your organization from several different angles. It reduces errors and the risk of non-compliance helps increase employee satisfaction (among your HR team and general staff), and makes your internal processes much more efficient. Many professional employer organizations (PEOs) offer software solutions that generate all the benefits listed above—but PEOs can do much more than that. They can provide third-party payroll management, compliance support, and benefits management.
Reach out today to explore how a PEO can provide expert guidance, support, and direct services.