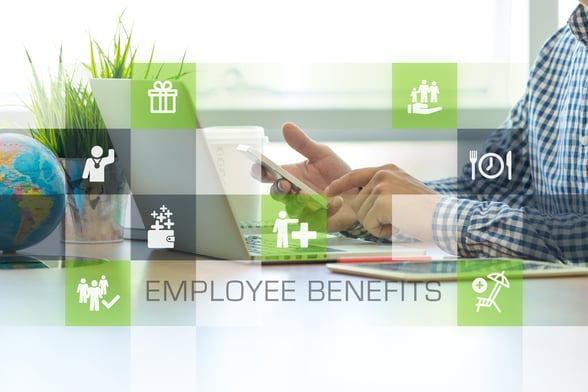 Attracting and retaining top talent is a challenge for any small business, especially in today's work environment. One surefire way to achieve your goal is to offer high-quality and competitive benefits. But for many small businesses, that's too costly of a burden.
Offering the bare minimum of benefits isn't enough to get you the talent you need to keep your business moving forward. Luckily, there are ways to increase your chances of attracting and retaining the best employees and offering a competitive and affordable benefits package. 
Why Small Businesses Should Offer Voluntary Benefits
There are some benefits that every business must offer. But offering only the minimum won't make your company attractive to new employees or even existing employees. Offering additional voluntary benefits helps give your existing team a better experience, making them feel supported and cared for by their employer. It can increase productivity and morale while simultaneously lowering your turnover, among other benefits to your company.
Small businesses may have difficulty offering competitive wages to employees. By adding voluntary benefits, you give yourself the chance to compete on a more even level with larger organizations. This only works if you can design an employee benefits program that saves you money. 
What Voluntary Benefits Include
Voluntary benefits include any benefit you offer to employees, above and beyond any required benefits. These types of benefits most often include:
Dental and vision coverage: Employees' dental and vision coverage is a popular request, and offering employees this coverage will make them feel supported as a whole person by your organization. They're looking for support from your company to help them stay healthy.
Life, disability, and accident insurance: Accidents happen, and by providing additional insurance coverage, you can show your employees you support them and help them through difficult times.
Flexible or remote work: If you offer remote options, you can get higher productivity from your employees and vastly increase your potential applicant pool since you can hire outside your geographic area.
You're not required to offer voluntary benefits. But offering the bare minimum benefits will not help you grow your business. You will not be able to attract quality employees, and even if you make a stellar hire, you probably won't be able to keep them. High-quality employees need support, and if you're not offering voluntary benefits, you're likely to lose these employees quickly, resulting in high turnover rates and expensive hiring and onboarding costs.
How to Offer Better Benefits with Lower Costs
You're probably thinking that all of this sounds great if only you could afford it. But you absolutely can.
A Professional Employer Organization (PEO) is a type of HR outsourcing company. A PEO is one of the best ways for you to offer premium and voluntary benefits without paying excessive rates. A common concern for small businesses is that they cannot afford to offer benefits. While this is true on your own, partnering with a PEO can make voluntary benefits much more affordable. 
PEOs can help your company offer Fortune 500 benefits at Fortune 500 costs. When you partner with a PEO, you can join their master benefits plan, negotiated at scale by experts. You enter into a co-employment relationship with your PEO. That means that the PEO becomes the employer of record for your employees, allowing them to provide benefits to your team through their benefits program. You don't lose any control over the day-to-day operations of your business or on staffing decisions. 
Because a PEO negotiates benefits using economies of scale, you can get access to benefits at a cheaper price point than you could on your own. Partnering with a PEO can help your business grow quickly and sustainably. 
PEOs offer your company access to voluntary benefits that can help you attract and retain top talent in your industry and provide you with comprehensive HR support. PEOs staff HR experts who can act as counselors, helping to guide your business as you develop and implement these plans. They also allow you to tailor your voluntary benefits to meet your business and your employees' unique needs.
These HR experts can also help you manage complex and legally tumultuous HR situations. The best PEOs will provide your small business with comprehensive HR support, giving you the guidance and flexibility you need at affordable prices.
Partner with the Right PEO for Your Business
Choosing the right PEO for your business doesn't have to be complicated. But it does require a thoughtful approach to ensure you're getting the best bang for your buck. Understand what benefits your employees want and source a PEO that can help you provide those benefits at a reasonable cost. Not every PEO is willing to be flexible with you and offer you affordable support. Make sure you find the PEO that best meets your needs.