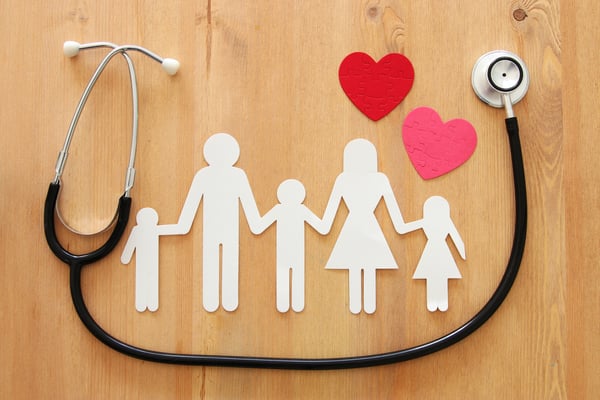 There are many benefits to providing top-quality healthcare benefits to your employees. Not only will you attract and retain the top talent in your industry, but strong medical and wellness benefits keep your workforce healthy, reduce absenteeism and boost productivity. Plus, health insurance tax deductions can actually save you money each year. In fact, health care is often one of the most important benefits to a prospective employee or one who is considering other employment options.
The benefits of providing healthcare for your employees are clear, but are you paying too much for your share? In 2018, the average company-provided health insurance policy totaled $6,896 a year for single coverage. On average, employers paid 82% of the premium, or $5,655 a year. Employees paid the remaining 18%, or $1,241 a year. How do your healthcare costs compare and how can you reduce them? We've put together four signs that you're paying too much and some tips to help you save on this important expense.
1. Numerous Administrative Fees
Yes, there are costs a provider will have when managing a healthcare plan. These costs can include taxes, commissions and even profits for the healthcare management company. Even though there will likely always be fees that are passed on to the employers, you may be able to lower your costs in this area. First things first, contact your provider and obtain a breakdown of your premiums to find out how much you're paying in administrative fees. If the fees make up a large percentage of the premium, it may be time to search for a new plan with lower costs.
2. Extremely Low Deductibles and Copays
It only makes sense that employees would favor lower deductibles and copays. However, these can lead to higher healthcare costs because plans with these features will likely have a higher premium and higher costs for the employer. Looking for plans that have higher deductibles or require more cost sharing will allow you to provide healthcare but without breaking the bank. Find the perfect balance to save money and still provide a great benefit for your employees.
3. Paying Multiple Providers
If you're providing dental, vision, life and disability insurance as well as medical coverage, consider buying from the same provider. Buying in bulk gives you more leverage to negotiate a better rate, thus saving money on healthcare and other employee benefits. When you buy each of these types of coverage separately, the costs will add up quickly and you may even end up paying double for certain add-ons or benefits.
4. Doing It Alone
Small businesses don't have the buying power of large employers; therefore, on average, small businesses pay about 8-18% more than large firms for the same health insurance policy. Fortunately, a small business may be able to obtain competitive rates by partnering with a PEO. PEOs leverage economies of scale to help small to midsize businesses receive quality benefits at better rates, while giving them the same buying power of larger businesses.
The benefits of offering quality healthcare to your employees certainly outweigh the costs. However, you want to ensure you're not overpaying for these benefits when you could be saving. Watch for these signs that you are paying too much for healthcare, and consider hiring a trusted PEO to help lower costs for your employee benefits as well as handle other critical human resource tasks.