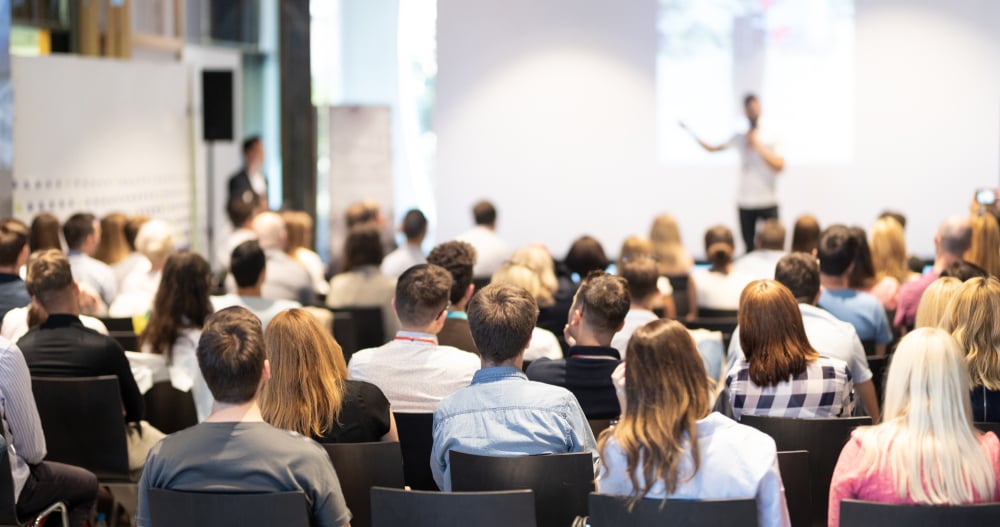 The Alabama Medical Group Management Association (MGMA) can help you attain the skills you need to run a successful medical practice. Founded in 1976, Alabama MGMA is the leading resource for professional growth in medical practice management. The organization's goal is to improve the health of our communities by supporting medical practice leaders. Whether you are an administrator, supervisor, faculty, manager, student, or healthcare professional, Alabama MGMA will help you better lead and manage your practice. 
It's MGMA's vision to provide educational programs and networking opportunities to help keep you up-to-date on industry innovations for continued success and growth. One way to get involved in their extensive educational opportunities is by attending their summer conference.
The PRemployer team invites you to join us at the MGMA Summer Conference! We'll be at our booth in the conference area ready to greet any attendees. Please stop by to visit us!
AL MGMA 2021 Summer Conference
Once again, the Alabama MGMA Summer Conference is in Destin, FL, at the Hilton Sandestin Beach Golf Resort & Spa. This conference is packed with educational sessions, inspirational speakers, and quality networking opportunities. With the theme of "Getting Back in the Game," you will learn about a diverse range of topics, including digital health innovations, the new administration's impact on healthcare, and how to attract quality talent for your medical practice. From July 19th to 21st, you can unwind on a beautiful Florida beach, play golf at a championship golf course, and learn about how to improve your management skills. The AL MGMA Summer Conference provides the unique opportunity to enjoy a Florida vacation while also receiving valuable industry insights to help your medical practice succeed.
Conference Topics and Speakers
We at PRemployer are excited to learn from leaders in the management industry and hear inspirational stories from guest speakers. Here are just a few of the many exciting topics that will be covered at the conference this year:
How Small Changes Pay Off Big
In this session, you will learn how small changes can lead to significant results. This session is about improving communication, from customer interactions to company culture. With decades of experience in the healthcare industry, Laurie Guest has cultivated lessons that will transform your team's customer service. Laurie ensures that each attendee will learn how to make changes efficiently, how to self-assess customer service strengths and weaknesses, where there are gaps in customer service that your competition is likely missing, and how to get your whole team involved in these customer service improvements.  Learn how to leave positive impressions with your customers that make them want to return.
Financial Considerations for Your Practice
In this session, Maddox Casey from Warren Averett in Birmingham is going to share his financial expertise. After the unprecedented challenges in 2020 and 2021, businesses and practices are trying to find the new normal. If you wonder how your practice can still be profitable in the aftermath of the coronavirus pandemic, this session will equip you with the knowledge to get your business's finances back on track. You will also learn more about new policies and tools, including the HHS provider relief fund reporting, Employee Retention Tax Credit, and PPP loan updates.
Top 5 Regulatory Compliance Concerns
With many changes over the last year, your top management concern may be compliance. If that is the case, this session led by Catherine Kirkland of Starnes Davis Florie, LLP is suitable for you. You will dive deeper into relevant regulatory compliance concerns, including health information and technology, healthcare contracting, telehealth, COVID-19 Government Assistance Funds, and physician investments and joint ventures. This information can be overwhelming and confusing, so this session will help clear up any concerns. Get peace of mind from knowing how to comply with requirements properly. 
How to Win the Season Through Strategic Planning
Learn how to make a plan that sets your team up for success. In this session, Janet Day of the accounting and financial planning firm Kassouf & Co. will teach you how to create a strategic plan. She will explain what is needed to perform strategic planning, like knowing your business's strengths and weaknesses, as well as how to set short and long-term goals for the future. This session will give you the tools to take the following steps toward growth.
Hiring and Retaining the "Right" Talent
This session aims to teach you how to attract, find, and retain qualified talent. Matt Griswold of People Centric Consulting Group will share how to navigate an industry with a mobile workforce, a high retirement rate, a shortage of nurses, and competitive compensation packages. This session will teach you how to use your practice's unique story and values to attract and retain talent.
Enjoy more sessions and talks, including an inspirational speech by former UA running back Siran Stacy and other fascinating sessions on private equity, digital healthcare, the new administration's impact on healthcare, and the power of thoughtful leadership. After an educational session, enjoy networking opportunities on the beach and golf course.
Learn How to Thrive in Medical Practice Management
The MGMA Summer Conference is a fantastic opportunity to help you grow as a leader. Come find us at our booth or at any of the conference dinners. We're excited to meet with any others in the industry and form a relationship with them. From news on the latest innovations to critical financial considerations, this conference will provide valuable industry insights to set your business and team up for success. The educational resources, inspirational stories, and quality networking opportunities will give you all the tools you need to thrive. At the AL MGMA conference, you can enjoy the beach while also advancing your career. We hope to see you there.