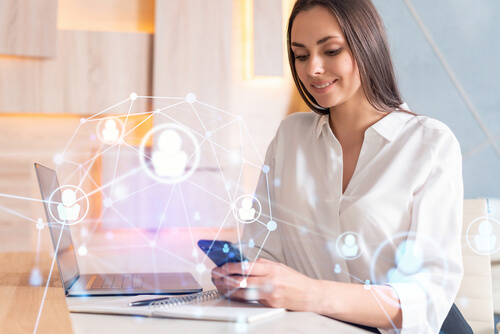 The recruitment process has always depended on technologies and innovations. As new tools and practices appear, companies that bring them on board up the chances for hiring and retaining top talent. Social media is a powerful tool that has already changed the recruitment process for many organizations. By adapting to this new technological wave, you gain access to a larger talent pool, speed up the hiring process, and cut recruitment costs.
Let's take a closer look at social media's comprehensive ability to streamline your recruitment plan.   
Using Social Media for Recruitment
Social media platforms give businesses a tool to reach candidates through various methods that work together to improve your employer brand by sharing your culture and demonstrating you're a great place to work while giving candidates easy access to apply.
Candidates take an active role in applications and typically research companies before deciding to follow through with filling out the application – which usually brings them to company social media pages. Providing resources highlighting your culture, like videos or posts highlighting your staff and showing appreciation, gives them something to find and makes your brand stand out. In addition to sharing information about your services and industry to potential customers, you can help develop an educated and excited candidate base.
Recruiting Benefits from Social Media
Just as marketing your products or services promotes your business, social media promotes your employer brand, positioning you as an employer of choice and reaching a broad target audience.
LinkedIn, Facebook, and X (formerly Twitter) are the most common social media platforms used for recruitment purposes. Conducting posts on multiple platforms – in addition to job boards like Indeed and Monster – also helps you reach various candidates. LinkedIn is built for recruitment and has a job board built into the platform. Many candidates are also active on Facebook and X. Seeing posts on these channels will reach candidates in different mindsets, often making them more receptive to your message or helping it stand out further.
Find Top Talent Through Passive Candidates
According to statistics, 73% of professionals are passive job seekers. These candidates are usually highly qualified for the positions you seek. However, they don't take any direct action to put themselves on the market.
When these candidates are interested in other roles or positions, they could casually surf social media channels, join groups, or check out relevant company posts. That's where your recruitment efforts come in. Social media provides a unique opportunity to connect with these passive candidates by sharing information about your job openings, bringing it directly to their feeds.
You can use social media to recruit passive talent by:
Identifying interested parties in the social media space and approaching them directly with a suggestion, link, or conversation starter
Marketing your company as an attractive opportunity for switching jobs
When passive candidates contact you through social media, you can be more confident that they genuinely are interested in the position. That can minimize recruitment costs, ensure a perfect fit, and reduce turnover by finding the most suitable candidates.  
Reach Specific Professional Niches
The search can go on for months when looking for a candidate with highly specific skills. These top-tier candidates are hard to find and less likely to be looking for a job by posting resumes on job boards. However, they may join relevant social media communities to chat with colleagues about their work. That's where recruiters, who are savvy social media users, can easily find them.
Social media can create a pathway to reach these highly specialized professional niches. Online communities and forums are abundant and cater to every conceivable profession and interest, making them the ideal place to network connections with the specific skills your business needs. Your HR team can find new recruitment opportunities through professional groups and communities. Inside these groups, you don't just build new relationships with potential candidates – you demonstrate your company as an employer of choice, build its credibility, and foster brand ambassadorship.
Simply by sharing information and putting your company out there, you can form relationships with the best passive candidate and give them a chance to contact you privately. However, this route may require you to branch out of the traditional social media channels, branching onto more specific message boards on sites like Reddit. Workers in these areas value genuineness and transparency, so your recruiters may need to spend more time developing legitimate networking relationships and staying upfront about their goals and intentions to not mislead anyone.
Demonstrate Your Work Culture
By building your presence on social media, you gain a remarkable opportunity to demonstrate your positive work culture without aggressively hunting candidates. When top talent browses the available options and discovers your organization, they can learn more about what you have to offer outside the succinct job description.
75% of job seekers research your company online before applying, and social media is one of the top places they check. Using social media to build your brand allows these candidates to find the best information and make positive decisions. Sharing posts about company events, team-building exercises, or employee achievements can provide an authentic glimpse into your organization's atmosphere. This transparency can attract candidates who align with your values and are more likely to contribute positively to your work environment.
Your current employees can become brand ambassadors and help promote your work culture through their social media groups and posts, making it easier for talented candidates to find your brand and discover the benefits of working at your company.
Earn Candidates Cost-Effectively
While multiple differences exist between active and passive recruitment, the one that stands out the most is cost-effectiveness. Aggressive and expensive recruitment tactics work well, such as seeking out candidates and paying for job ads or posting on job boards – but they can be costly. Fortunately, they are not the only way to find top talent.
Social media gives you a wide range of cost-effective tools that bring candidates to your company organically through:
Building brand awareness
Promoting company culture
Making it easy to contact your team
Creating accessible job listings
Creating dedicated recruitment posts or pinning job listings to your profile increases visibility and reaches candidates cost-effectively, making a more targeted and efficient hiring process. The best part about social media recruitment is that it works 24/7. Social media posts attract new candidates – even when your HR team focuses on other tasks.
Leveraging Social Media to Improve Your Recruitment Efforts
Social media is an effective instrument that can simplify your recruitment strategy, cut HR costs, and bring top talent to your company. It allows you to reach a wider talent pool, engage passive candidates, and position yourself as an employer of choice without spending a fortune on marketing.
Once you add social media to your list of recruitment tools, you can also consider partnering with a professional employer organization (PEO) to handle other HR efforts. While social media recruitment attracts new talent, a reliable HR outsourcing partner can help with onboarding, arrange training, handle salary negotiations, and improve candidate experience.