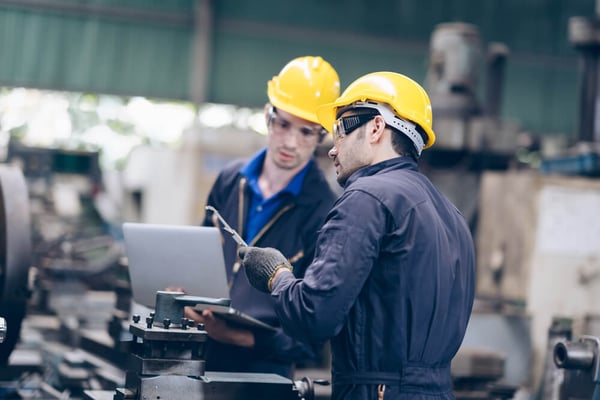 HR outsourcing benefits companies across industries, helping them grow with support and guidance. A company's needs vary based on its sector and employee base. Engineering firms' HR challenges stem from how the industry spans many different areas, from construction, transportation, or other technological aims.
Because of that, the typical engineering firm deals with complexities such as having workers in different workers' comp categories and, often, job sites in multiple states, as well as bringing on seasonal or temporary workers.
HR Needs of Engineering Firms
Engineering firms must attract and retain talent, putting effort into supporting staff to keep their specialists in their company. Due to the intricate skill sets needed in the industry, employees are often not interchangeable. Roles tend to have a high specialization, and companies often fight over a small number of potential candidates for certain positions.
It's tempting to push your staff for high productivity to get the most out of everyone, but productivity and retention improve quicker by maintaining a proper work/life balance. Focusing on employee wellness helps them feel supported, empowering them to focus on their lives outside work. You want your employees to find satisfaction in their jobs but to still be able to step away from their work, as it helps them recharge and produce better work.
Providing that level of support can be challenging for small firms with a proportionately small HR team that spends most of their time handling paperwork and compliance, especially given the complex compliance needs of industries such as construction.
Tips to Improve HR
Developing a strong company culture helps your firm develop a closer-knit team, giving employees a sense of belonging and improving their satisfaction. Particularly for creative people, such as designers, a sense of belonging and ownership in the company is vital. It helps you attract talent, retain your workers, and even "retrieve" talent by encouraging past employees to come back after time away.
For many firms, a graduate student program is a great way to bring on new talent and nurture them into top performers. However, not all companies have the resources to launch such a program. Joining with other firms can help you achieve this by combining your efforts. Offering co-op programs where you bring on and train talent you can't hire hurts your long-term efforts by losing workers and damaging their impression of you. Being able to offer support and keep the people who make a good fit on your team is essential.
Achieving this requires detailed and accurate job descriptions that attract the right people and entices them to apply. You need onboarding and training procedures that give an excellent first impression. Employee development is also a vital step. You need to support your staff and manage their expectations, but at the same time, keep them feeling that they have space to grow on your team. Promoting from within and then filling a lower-level position is often easier than finding a higher-skilled individual that you have to tempt away from another company. Even if you only upskill and train your staff to take on new and different roles at the same level helps them feel supported and shows you prioritize their interests and well-being. If you do not offer internal growth, then somebody else will tempt your people away.
How PEOs Empower Companies to Support Employees
Partnering with a high-quality professional employer organization (PEO) can make a massive difference for your engineering firm. Make sure to choose one with experience in your industry, so they can respond to and guide you through the industry's unique needs.
A PEO handles all the crucial but mundane tasks such as payroll and benefits administration, freeing your HR team to work on complicated matters requiring intimate knowledge of your company and its goals, improving job satisfaction, and supporting morale. With HR focused on providing comfortable working conditions, any company does better. PEOs can also help newer companies with issues such as safety training.
Furthermore, PEOs help keep money in your company by ensuring compliance and improving cost efficiencies. By outsourcing to a PEO, you can provide better health insurance and 401(k) benefits to support your staff, improve morale, and increase retention. Good health benefits are vital for attracting talent. Insufficient benefits can cause staff to leave not because they want to but because they don't have enough coverage for major life changes like health conditions, having a child, or their child's or spouse's medical conditions.
Meanwhile, better retirement benefits encourage employees to stay longer, as well, because they want to visit the entity that invests in them. PEOs can also save you money by ensuring you correctly code your employees, field, and office for workers' comp purposes. Many firms overpay on workers' comp because somebody is in the wrong place, incurring premiums for a more dangerous job than the one they're handling.
How PEOs Make Great Partners
PEOs can do this because they act as the employer of record and add your employees to their master plans, giving you the advantage of economies of scale typically only achieved by much larger businesses. That gives you the decision-making control to run your company and handle employee issues while officially placing your staff into a larger entity.
They can also allow you to afford voluntary benefits, such as dental and vision coverage, life insurance, disability insurance, or flexible and remote work options. While called voluntary benefits, these have become increasingly necessary to maintain competitiveness. PEOs can negotiate benefits such as life insurance at economies of scale, lowering costs, and providing benefits you couldn't regularly afford. They can also allow you to offer remote work by supporting the extra paperwork required to handle employees in multiple states.
HR is a crucial part of your engineering firm, but smaller firms often neglect HR or struggle to manage its functions with a small team (or worse, with the owner taking time out from doing their job to help). Outsourcing to a PEO can make a huge difference in your company's operations and culture.