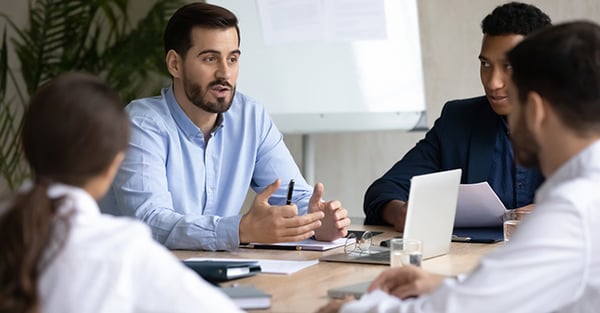 As the owner or operator of a growing business, it is up to you to provide affordable benefits to employees without sacrificing your profit margins. But achieving this goal is not always easy, especially when you are already overloaded with critical issues to resolve.
Fortunately, Professional Employer Organizations (PEOs) have emerged as a trusted solution for leaders of small to medium-sized seeking top-quality benefits administration. In addition to offering affordable health benefits, PEOs take away the burden of benefits administration. And with an average ROI of 27%, it's easy to see why 98% of businesses who use a PEO would recommend one to a colleague.
What are the key reasons why CEOs want PEOs to handle their benefits?
If you are relatively unfamiliar with PEOs, you might be surprised by the extensive range of advantages they offer. In addition to helping companies save time and money, PEOs offer an unparalleled level of expertise and top-tier product options. Most importantly, PEOs are associated with higher employee engagement and satisfaction, which ultimately lead to improved retention. Below are six reasons why CEOs are increasingly turning to PEOs to handle their company's health benefits.
1) Companies save money on benefits by working with PEOs
Cost savings is a leading reason why business leaders are drawn to PEOs. The NAPEO notes that companies using a PEO enjoy an average cost savings of $1,775 per employee. By handling a relatively large volume of employee benefits for multiple organizations, PEOs are able to negotiate discounted pricing that employees can afford. In turn, the attractive pricing and enhanced benefit options help your company attract and retain talented employees.
2) You don't have to hire more HR employees
Remaining abreast of the latest compliance issues can quickly become a full-time job for a stretched HR professional. And with the average cost per hire now exceeding $4,000, many small to medium-size businesses are not able to afford to add employees to their HR department. A PEO will monitor all compliance issues so you no longer need to hire and train an in-house specialist to handle your compliance issues.
3) Employee satisfaction is higher when PEOs handle benefits
A white paper by the NAPEO notes that employees of companies that partner with PEOs tend to have a more positive view of their company's benefits and hiring practices. These findings are especially compelling given that the majority of employees cite benefits as a top concern when seeking a job. Even more important, employees who work for a company that uses a PEO tend to be happier, more engaged, and more productive. By helping companies build a more engaging work environment, PEOs play a key role in creating a work culture that attracts top talent.
4) CEOs can devote their time to growing the business
When a trusted PEO provides benefits for a company, the administrative burden is eased right away. You and your leadership team suddenly have more time and energy to pressing priorities such as new business development and customer satisfaction. Best of all, you and your employees can rest assured knowing that an experienced team of specialists is handling your benefits.
5) PEOs offer a higher level of benefits expertise
There is no substitute for industry expertise when managing health benefits. With the benefits landscape growing increasingly more complex and costly with each passing day, you need an experienced but reasonably-priced option. By partnering with a PEO, you can enjoy Fortune 500-style benefits at a surprisingly low rate. Suddenly, you have access to the best-in-class benefits that will delight your employees.
PEOs are able to deliver a higher level of benefits by using economies of scale and pooling employees from multiple organizations. The end result is more leverage at the bargaining table and a more impressive collection of benefits. The Frugal Entrepreneur is among a growing number of cost-conscious business professionals advocating PEOs as a means of receiving high-level HR services, "the likes of which are usually only available to large corporations."
6) Companies can easily expand the HR solutions they receive
PEOs offer much more than benefits administration. They are able to manage payroll processing, retirement plans, and workers' compensation insurance. With the same PEO handling all of your HR tasks, you can streamline your operations and enjoy greater cost savings by working with the same organization.
What can you do to improve your benefits and your employee retention process?
As outlined above, health benefits play a key role in boosting employee retention. And if you are ready to embark on the journey to improved retention, you may wonder where you should start. While every business is unique, the path to improved worker retention typically begins with the identification of your organization's strengths and weaknesses in the talent management department.
A fast, effective way to assess your organization's performance in this area is to download the Employee Retention Scorecard. By completing this self-evaluation, you can expect to uncover the following:
General insight into your company's retention efforts and results
How your retention efforts compare to best practices
Areas in which your business is performing well
Opportunities for your business to improve its retention
With your completed scorecard in hand, you will have a framework to guide you in your retention efforts. Finally, you can begin to build an action plan to transform your business into a model of excellence for retaining top talent.