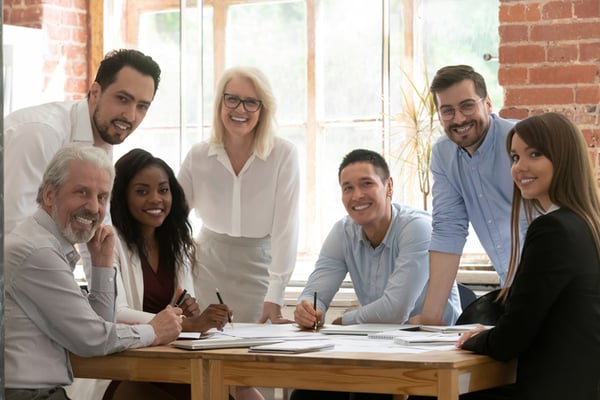 Several factors impact the success of your business, and employer reputation is near the top of the list. If you have a bad employer reputation, you cannot attract top talent or retain your best employees. In fact, 50 percent of employees say they wouldn't work for a company with a bad employer reputation, even for an increase in pay. Similarly, more than 80 percent of job seekers admit that a company's reputation factors into their decision to apply for a job.
Building your organization's reputation as an employer can turn your business into an employer of choice. Becoming an employer of choice affords a variety of benefits to organizations, and partnering with a professional employer organization (PEO) is a great way to work towards that goal.
What Is an Employer of Choice?
An employer of choice is a business that provides its employees with outstanding workplace culture and an environment that prioritizes the well-being of employees and customers alike. This can look different across organizations, but the choices businesses make with regard to company culture leads to a strong reputation that attracts outstanding employees and retains exceptional talent. Some characteristics commonly associated with employers of choice include:
Employees feel secure in their jobs, often because their employer is financially sound.
Employees feel they have opportunities for growth and education in their jobs.
Strong human resources policies and business strategies in employers of choice demonstrate a commitment to employees.
At employers of choice, hiring decisions rely on a good cultural fit, so coworkers typically enjoy working with each other.
While salary is not a primary factor of an employer of choice, many provide pay and benefits that are at or above market standards, including paid time off, insurance benefits, gym allowances, and more.
Why Is it Important to Be an Employer of Choice?
You can reap several benefits by striving to be an employer of choice. Most of these benefits revolve around money. Boosting your employer reputation has tangible cost savings, primarily because it increases employee retention. High employee turnover is costly. Companies need to pay employees overtime to cover vacancies. Working extra hours bothers some employees, prompting them to seek employment elsewhere, increasing the problem.
Additionally, hiring new employees is expensive. New employees all go through a learning curve, which sometimes comes with costly mistakes. Onboarding, training, and other activities increase the cost. Ultimately, high turnover also diminishes any sense of camaraderie or company culture. By becoming an employer of choice, top talent competes with each other to work for your company. When employees compete to work for your company, they are less likely to leave, which greatly reduces turnover.
How Do PEOs Boost Employer Reputation?
Working with a PEO can boost your employer reputation in several ways, including:
Provision of Fortune 500 Employee Benefits
PEOs have multiple clients, allowing them to leverage the total number of employees to negotiate the best benefits packages at the best prices. Working with a PEO enables access to great benefits at a lower price than you would be able to secure on your own.
Error-Free Payroll
Payday is always a big deal for employees. They expect their employers to pay them the correct salary or hourly wages on-time. Sometimes growing pains or a heavy workload leads to payroll errors. When employees get the wrong amount, paid late, or even worse, not paid at all, they get frustrated. Payroll errors not only wreck any positive internal sentiments, but it can hurt employer reputation when disgruntled employees badmouth the company.
Frees Up HR's Time
Beyond acting like an employer of choice, it is essential that HR or someone similarly situated has the time to monitor online ratings. It does not matter how good your company is if all people see online are bad reviews. There should be a set schedule to review both social media and job board sites like Indeed, Glassdoor, Zip Recruiter, and Monster.
Top-Quality HR Practices
PEOs provide their client companies with the best human resources policies and practices. In fact, employees of PEO clients rate the quality of their HR policies and practices higher than employees of businesses without at PEO. Employees who are happy with HR policies and practices share their stories with others and also increase employer reputation.
Engaged Employees
Employees who are engaged share positive things about their employer the same way that they share negative things if they are disengaged. PEOs help boost employer reputation because research also shows that employees of PEOs are more engaged in their workplace than employees of businesses without a PEO. Employee engagement has several benefits for organizations that go beyond creating a positive reputation. Examples include:
Organizations with high employee engagement levels report

more than a 20 percent increase

in productivity.
Engaged employees do not miss as much work.
High levels of employee engagement translates to low employee turnover.
Engaged employees do a better job on work-related tasks.
Businesses with engaged employees report almost 50 percent less safety incidents and accidents.
Employers of choice foster a strong, supportive, and productive culture in the workplace that provides them with advantages. Lower employee turnover and increased productivity result in cost savings that impact an organization's bottom line.
Strive to be an employer of choice by partnering with a PEO you can trust. A PEO partnership provides top-tier benefits for your employees, takes care of payroll administration to eliminate errors, implements the best human resources polices and practices, all while helping you increase employee engagement. Each of these aspects boosts your reputation and put you on the Employer of Choice path.