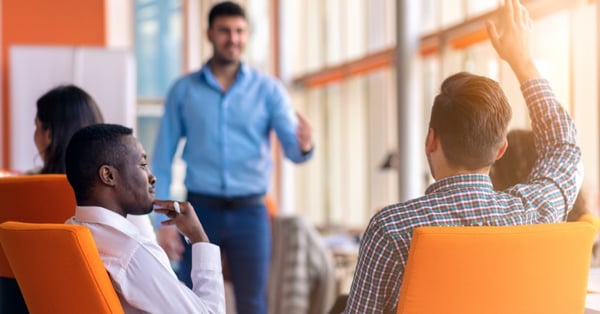 The whole point of outsourcing HR functions to a Professional Employer Organization (PEO) is to have a partner that you can trust to be there when you need them and give you sound guidance on complex HR compliance issues. If a PEO cannot provide this for business, then their service does not provide the value you need.
A major differentiator between PEOs is their customer service. You need someone you can rely on to give you guidance and pick up the phone when you call.
Most business owners and HR team leaders know the big, national PEOs. They advertise and may have even called to solicit your business. But name recognition does not equate to good service. In fact, local PEOs can provide you advantages not available to the national options.
Local Service
First and foremost, a local PEO provides you with local service. HR is a complex area of any business and some issues require hands-on guidance. A national PEO will most certainly not send a representative to your office. A local PEO, however, can have a representative in your office when needed to help guide you through the complex issues you face.
Some national PEOs do not even have dedicated representatives — they are more like a call center. With a local PEO, you may be assigned one or more representatives with whom you develop a relationship over time. You can learn to lean on this person and trust that they have your business' best interests at heart.
Local Compliance
For many small and mid-sized businesses, staying compliant with over 180 federal HR laws presents challenges. Even with in-house HR departments, it is nearly a full-time job to stay up to date on employment regulations and prepare company changes to policies and procedures to ensure the business remains compliant.
But there are even more local laws and regulations your business must follow. National PEOs will not be well versed in your local jurisdiction and it's laws. However, your local PEO will.
Local PEOs are intimately familiar with both national HR laws as well as state and local laws. They are laser-focused on the HR laws applicable to your company because you all reside in the same community. With this acute understanding of local HR laws, a local PEO can give you accurate and timely guidance on changes your business needs to make to remain compliant.
Local Knowledge
National PEOs work with thousands of clients across a wide range of industry. They may have some general knowledge about your business and your community, but nothing too specific. Their goal is to cast a wide net.
For HR compliance, your business needs the hyper-focus of a local PEO. A local PEO not only understands your industry, they also understand your community. They may even be your customers. This acute knowledge of your business and your community can make the difference in guiding you through complex HR situations.
Local Reviews
National PEOs cast a wide net and are able to weather the storm of unhappy clients. Because they have so many customers, bad reviews might get lost in the mix. But local PEOs have more of an incentive to provide customers like you with top-notch service.
Both your business and your local PEO operate in the same community. If your PEO provides you with less than stellar service, word will spread within the community and the PEO's name may be tarnished. Your local PEO is incentivized to provide you with the highest quality of service not only because it's the right thing to do but also because you are neighbors.
Local Prices
National PEOs have to advertise nationwide. This means they have to pay high prices to be seen in places like New York and Los Angeles. They are also larger companies that must have large offices to house all of their employees. They pass this extreme overhead cost on to clients like you.
Local PEOs do not have the same enormous overhead. They pay similar rents as you do. A local PEO is also not advertising nationwide. They may not even advertise at all — they simply let their client's testimonials speak for their level of service. In turn, they can pass these lower overhead costs into savings for your business. Ultimately, that is what a local PEO relationship is all about — providing high-quality support without extreme costs.
A Local PEO Gives You Localized Service
A representative from a national PEO may speak with a client in New York, then one in Chicago, and then you. They cannot possibly have a complete understanding of local HR laws in every jurisdiction across the country.
Conversely, local PEOs have an intense understanding of local HR laws — they are subject to the same laws as your business. They understand the nuances of local HR laws and can help you solve the problems you may face. They answer the phone when you call, they give you accurate and timely guidance, and they will be happy to visit your office and help guide you through a problem face to face.
Your business deserves the best service. A local PEO can provide that to you while helping your business save money.