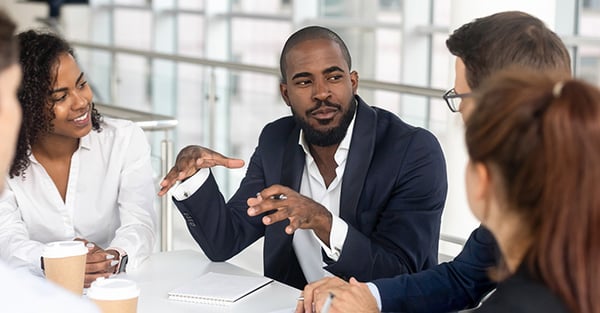 Onboarding new employees to a PEO is similar to dealing with a software upgrade. You know there are amazing benefits. But you have to get through the growing pains first. By the end, you'll have faster, smarter, and more efficient HR administration policies and processes. But it doesn't come immediately. You have to give it time.
Like that new software system, you have to be patient if you want to reap the rewards of increased productivity and efficiency. The key to minimizing friction when onboarding a PEO is to adopt the "PEO Mindset."
Adopting a PEO Mindset
Every business has a unique HR workflow. Often, the initial onboard frictions for PEOs are related to broken processes. You may not have been filling out paperwork that you needed to remain legally compliant. Alternatively, you may have had outdated policies that put you at risk.
HR is hard. 40% of small businesses incur IRS penalties. A shocking 54% of Americans deal with payroll errors. PEOs identify these weak points and fix them.
Adopting a "PEO Mindset" means accepting that your PEO is going to overhaul your HR administration. They won't try to blend your system with their system; they're going to handle everything. PEOs are companies filled with HR professionals, and they have a deep understanding of the HR complexities that make your business tick.
At the same time, you'll have to learn to accept that PEOs will bring in resources from outside your company. They'll be picking out the best health plans, using their payroll systems, and bringing their workers' compensation insurance to the table. All of this saves time, money, and headaches, but you may not be able to see those results immediately. It takes time. Those first 60 days may feel drawn out.
Employees will have to get used to a new way of HR, and you'll have to get used to completely new HR workflows. Again, it's similar to onboarding a new tool in the tech stack. It may cause a little early friction. But the payoff more than makes up for those first few months.
Joining a Professional Employer "Organization"
When you join a Professional Employer Organization, you really are joining an organization. The PEO brings its tech to the table. They bring their processes with them. And there's a good chance they're going to bring a unique flavor of benefits. But, just like joining an organization, there's a transition period.
For employees, it works the same way. They're going to be joining the PEO. That means doing things a new way. While that way may be foreign, it's a more holistic and comprehensive way of getting things done. If employees have been cutting corners, your PEO may end that. For them, it can feel frustrating. But they need to understand why adhering to those "boring regulatory bodies" is important — both for them and your business.
Early buy-in helps reduce those early pain points. Remember, PEOs provide:
Your PEO should also get early buy-in from employees. They should communicate those values loud and clear. And, they should get employees to join in on the new way of working without friction.
That's a huge bucket of HR tasks. And handing them over to someone else is obviously going to take a little time. That's ok! Those first few months are going to be about building the right systems and policies. All of these buckets of tasks take time to set up correctly. But, once they are, your HR administration will be smarter, faster, and more compliant than ever before.
Are You Ready to Transform Your HR Administration?
It's not often we talk about those early PEO frictions. The benefits of PEOs are enormous. 98% of businesses that use a PEO would recommend one to their colleagues. But, that's because they've crossed those hurdles.
If you or your employees are feeling like your PEO is slowing things down during those first few months, that's an incredibly common feeling. Things are changing. Systems are being overhauled, online portals are being established, policies are being reviewed, and benefit plans are going through a fine-tooth comb. Your PEO needs a few weeks or months to get fully established.
Once they are, you'll wonder how you ever lived without them. Stop spending countless hours with broken processes that result in compliance issues. Stop overpaying for benefits. Don't spend all of your money onboarding new HR employees. All you have to do is find a PEO who understands how to breed a PEO mindset into your organization.