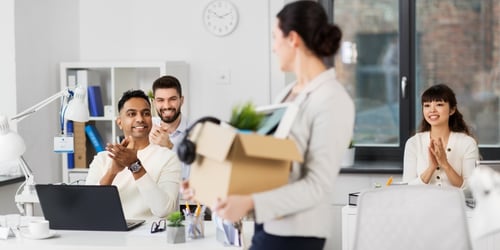 It's always unfortunate when employees leave. In rare circumstances, you may be glad to see them gone. But in many cases, your employees leave even though you want them to stay.
However, employee departures also offer an opportunity to gain insights into how staff views your corporate culture. The exit interview is critical here, and conducting a quality interview can give you information to help improve your culture and how long your employees stay.
What Makes an Effective Exit Interview
An exit interview aims to allow employees to provide feedback and express concerns. That, in turn, can give insight into what causes your turnover. Keep in mind that you should only conduct exit interviews for employees who leave voluntarily. Don't conduct them for employees you terminated for cause or laid off due to a reduction in your workforce.
Some employees will opt out of the exit interview, even if it is officially mandatory. Legally, you can't force a departing employee to participate, although you can encourage it by stressing the discussion's confidentiality.
The departing employee's immediate manager or supervisor should not conduct exit interviews, as they're less capable of getting effective responses due to their histories together. One ideal solution is to outsource exit interviews if you can afford it. That guarantees a neutral interviewer and dramatically improves the chance of keeping the discussion confidential, especially with smaller companies. Working with a comprehensive HR outsourcing solution may allow you to do this affordably.
The exit interview should be somewhat structured, and it should be face-to-face (physical or virtual) to gain more candid insights. Surveys tend to be less candid but can be a useful additional tool.
Questions to Ask in an Exit Interview
Again, exit interviews should be structured, and you should have a list of questions you ask. These vary by company, but there are some general guidelines.
Questions to ask:
Why are they leaving?

How do they feel the company is doing in general?

What do they feel the company could improve?

What did they like about working there?

Would they consider coming back in the future?
Did they feel they had enough training?

Was the job description accurate?

Why did they choose their new job?

Would you recommend a family member or friend to work at our company?
Asking the right questions can help you work out where you fall short and where you need to increase competitiveness. However, you should avoid certain questions.
First of all, don't push them on personal issues. If their reason for departing is entirely personal and they have little criticism, turn it positive and ask them what they will miss about working with you. But they owe you no details into private matters. Also, avoid targeted questions or anything related to hearsay or gossip. There's a risk of crossing the line into slander and potentially facing a lawsuit or burning bridges with an employee who would consider returning with the right offer.
Make Positive Changes
There is no sense in conducting exit interviews if you don't act on what you learn. While you cannot change some things, such as an employee leaving because they were offered a job in their hometown, others can.
It's crucial to put changes into effect, especially if you have more than one employee saying the same thing. It can be as simple as addressing staff on the issue or improving your communication through one-on-one interviews. Other possibilities might include being more flexible about working from home, looking at your compensation and benefits package, and improving manager training. A professional employer organization can help you improve your benefits package to compete with larger companies.
Use a Stay Interview to Improve Retention
Exit interviews focus on why employees leave, whereas stay interviews focus on improving retention.
If you have turnover issues, have had several people quit, or feel concerned about your company culture, you should consider conducting stay interviews. A stay interview is essentially a more structured and focused one-on-one, typically with HR instead of employees' managers (so they can be honest).
You should ask why people want to keep working there and what might tempt them to leave. Stay interviews should be relatively casual, with open-ended questions, and should not be pushy. You don't want to give them the idea that you are desperate for them to stay, but rather focus on what they want out of the company.
If you conduct stay interviews, make sure to follow through on any changes you promise and act on the information gained. Otherwise, it can feel to your employees as if you are going through the motions and don't care. That can then cause them to think about leaving, the very thing you were trying to avoid.
Adapt to Changing Trends with a PEO
Turnover is a challenge for all companies in the current climate. As people's expectations of their employers change, companies need to be flexible and agile. Yet some things remain the same, including providing competitive benefits. Developing a strategy for when an employee quits can help you understand what, if anything, you are doing wrong and also what you are doing right.
Partnering with a PEO can help you retain employees by providing more competitive benefits and having HR staff with more time to develop company culture. They can also help you create a solid exit interview strategy by using their experience and knowledge to guide you in the right direction.