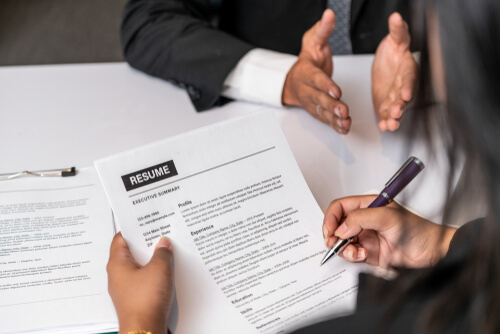 With The Great Resignation in full swing, companies are working hard to enhance their retention strategies. However, not all realize that retention begins at the earliest stages of the recruitment process.
A top-notch recruitment strategy allows you to make a positive impression on potential employees and position your company as the employer of choice. Delighting candidates from the start will enable you to build a strong relationship and encourage loyalty, just as you would with a customer or a client.
People Want to Work for Good Companies
When people search for a job, the importance of salary, benefits, and working hours usually pales to company history, values, and culture. Candidates are looking to belong, make a difference, and feel valued.
During the recruitment phase, it's imperative to help potential employees understand all the benefits of working for your company. While evaluating the talent during an interview, you need to "sell" the position and the opportunity to reap benefits by joining your team.
Today, employees can choose between numerous companies struggling to attract and retain top talent. That's why making a stellar first impression is imperative. During the recruitment phase, you must demonstrate:
Company values
Strong employer-employee relationship within the company

At the end of the interview, the candidate should know that you treat employees well, provide a positive work experience, and offer growth opportunities. That can cement the talent's desire to stay with your company for a long time.
Quality Recruitment Demonstrates Internal Stability
Since many companies are feeling the impact of The Great Resignation, top talent has numerous opportunities and offers but little sense of stability. Conveying this sense is one of the toughest challenges all recruiters face.
If you can demonstrate internal stability, you can show candidates that you provide job security. Once you make that impression, it can stay with the employee for a long time, keeping them with your company and reducing turnover.
The key to conveying stability is transparency. It's crucial to be straightforward about your hiring plans, discuss the company's financial situation, describe your investments in employee development, and discuss career opportunities.
Besides sharing all the necessary information to communicate stability, the person conducting an interview should also make the candidate feel welcome. Demonstrating kind, cordial, and responsive behavior, you are helping a person believe in your company's advantages.
Employer Branding
Around 80% of HR experts agree that employer branding improves their ability to attract talent. Conveying stability is part of your branding process. You should be building your brand throughout all recruitment stages.
Tips to Improve Your Recruitment Strategy
Building your recruitment strategy with retention in mind can help minimize turnover in your company while strengthening your superiority from day one. These tips can help you streamline the recruitment strategy and improve your retention efforts.
Create a Plan
A solid recruitment plan is the first step toward improving your hiring practices and working toward better retention rates. To create a solid plan, you need to:

Outline the company's requirements
Forecast future hiring needs
Set the recruitment budget and calendar
Do a skill gap analysis
Build an interview plan (with AI-powered tools in mind)

Amidst The Great Resignation, creating a competitive offer can be challenging. With many companies offering high salaries to hold on to top talent, you would need to get creative.
Train Your Recruitment Team
Your recruitment team should hone its sales skills to earn and retain top talent. They need to understand that they are selling the position in your company.
That doesn't just involve sharing the benefits of becoming a part of your team. It includes studying the pain points of your future employees and offering solutions.
For example, the pain point of many employees is a lack of stability. Show your candidates how stable your company is.  
Provide Transparency
Being transparent about your company, offer, and benefits is the key to building a solid relationship with a candidate. This relationship can lead to a successful hire and a high ELTV (Employee Lifetime Value).
Be transparent about your company's values, hiring plans, challenges, and goals. While establishing this type of trust, you can evaluate the candidate's reaction and use it to make the hiring decision.
Consider Innate Traits
The key to recruiting quality workers is finding a good match. While it's relatively easy to find a candidate whose skills are an excellent fit for your position, it's much harder to hire a person whose values align with your company's values. If you manage that, the employee will likely stay with the company for a long time.
Pay more attention to people with good work ethics and moral standing. You can always provide training to hone a person's skills. However, changing the work ethic and values is nearly impossible.
Adjust Your Recruitment Tactics with a PEO
Today, the highly competitive environment requires companies to be creative about recruiting and retaining talent. Approaching your recruitment strategy with retention in mind can help you attract top talent and ensure it stays.
A PEO can help streamline your recruitment process by adding transparency to job descriptions, developing creative advertising, sourcing quality candidates, improving candidate experience, and more.
An organized approach to recruitment can help you increase retention rates and position your company as an employer of choice.