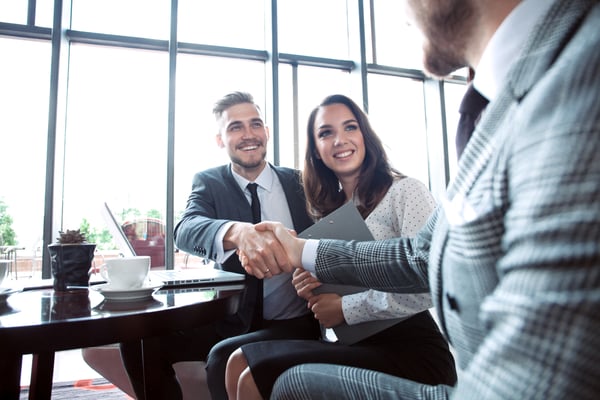 At PRemployer, we've helped many business owners manage and streamline their HR operations, effectively serving as an extension of their team. We strive to partner with our clients to provide the highest quality human resources management services every step of the way. Through these partnerships, we proudly assist our clients in reaching their goals of recruiting and retaining quality employees. Don't just take it from us, however. Explore the following 10 reasons our clients love us – as indicated by PRemployer client feedback.
1. Knowledge and Experience
Our team serves our clients using their wealth of HR knowledge and experience in areas like benefits, payroll, risk management and regulatory compliance. This allows us to provide our clients with high-quality service and support for all their HR needs. When a therapist at Sumlar Therapy injured herself using an unconventional therapy technique, for example, we could apply our skills and expertise to handle the matter professionally and efficiently.
2. Responsive
As an integral part of our service offerings, we provide the highest level of responsiveness to address all our clients' HR matters. Our dedicated service team provides fast response times that align with our same-day policy called the "Sundowner rule." As a result, our clients can offer their prospective and current employees efficient and timely HR support.
3. Security
Our clients can rest assured that we always comply with state-specific data privacy and security requirements. We take this responsibility seriously to protect our clients' company and employee information. Our adherence to these security practices gives our clients peace of mind and confidence in our HR services.
4. Liability Protection
Through our PEO bond, we can effectively provide our clients with liability protection. This bond helps ensure that we meet state registration and licensing requirements. In addition, it guarantees that we fulfill our employer responsibilities and ensures that we cover any errors or mistakes under our professional team and company federal ID number. This level of liability protection safeguards our clients from any potential risks that may arise when partnering with a PEO.
5. Compliance
Throughout the years of providing our clients with quality HR services, we have established a long history of tax and regulatory compliance. By adhering to tax laws and other regulations, our clients can avoid potential pitfalls that could otherwise impact their company's bottom line.
6. Top-Tier Benefits
We help give our clients access to a wide range of top-quality benefit options at a competitive rate. These benefits packages help our clients save money while attracting and retaining the top talent in their industries.
7. Time Savings
When our clients delegate their HR tasks to our skilled team, they free up their time and resources for other vital business tasks. When Calvary Baptist Church partnered with our team of HR professionals, we handled a wide range of HR tasks while giving them more time to focus on church business and serve their community. As a result of this successful partnership, our client let us know that, "We feel we have a true business partner in the sense of [PRemployer] having their attention on our needs, so we can focus on the church."
8. State-of-the-Art Technology
In our mission to provide exceptional HR support services, we utilize trusted, cutting-edge HR technology to communicate and collaborate with our clients. We also use this tech to securely store and manage our clients' company data and information. The state-of-the-art technology not only streamlines our HR services, but also ensures our clients' data always remains secure.
9. Reliable
We have a long track record of financial reliability and strength. We demonstrate our financial health and responsibility with annual audits performed by third-party professionals. With our dedication to reliability, our clients can trust that we will always make smart financial decisions while handling their HR needs.
10. Trusted Advice
Our clients can always come to us for trusted advice and consulting about HR topics of all kinds. With this level of support, our team assisted Restaurant Group in navigating the HR landscape. In response, they shared, "We realized that we didn't know nearly enough about HR practices, regulations, laws, etc. to be able to handle those issues alone. PRemployer has provided us with that and we not only rely on their input, we also have tremendous confidence in the advice that we receive."
Our Commitment to Excellence for Our Valued Clients
Our PRemployer client feedback clearly demonstrates our commitment to providing our clients with exceptional HR service and support. Our ultimate goal is to help our clients reach their business goals. When you partner with our team, you can streamline your HR operations and offer your current and prospective employees the support they need to grow and thrive in your company.