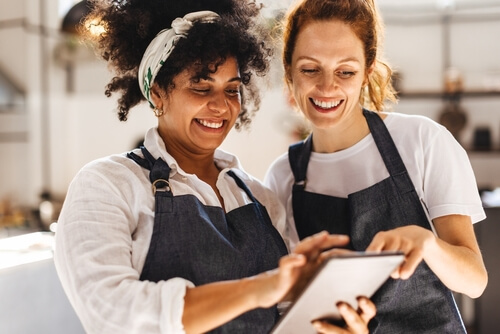 Retailers nationwide are expected to hire around 410,000 seasonal employees for the holiday season. As store hours increase, consumer engagement hits a high point, and stores must keep shelves stocked and cash registers open. A lot of hiring and onboarding will occur in just a short window of time. Of course, retail isn't the only industry with a lot of seasonal staff—warehouses, restaurants, and healthcare admin businesses also see a sharp increase in business – nor are the winter holidays the only season that sees a rise in temporary staff. Other industries require increased seasonal staff during the spring or summer to accommodate tourists on vacation or warm-weather activities.
Businesses that prepare early with a PEO's support are better positioned to interview, hire, and onboard all of their seasonal workers. In this post, we'll take a closer look at how PEOs benefit companies trying to incorporate seasonal staff and how they improve their efficiency, process standardization, and create a less overwhelming workload for your HR teams.
Efficiently Hire Seasonal Workers with a PEO
When hiring seasonal staff, speed matters most. You must set up job descriptions, hold interviews, and get people into positions as soon as possible before seasonal demand picks up. Customers get frustrated by a staff stretched too thin. But you also can't hire and onboard too early, as that leaves your company paying wages and benefits before necessary.
A professional employer organization (PEO) is a third-party service that can handle all the HR tasks of hiring seasonal staff, such as the following:
Recruiting and managing applications
Make sure your hiring practices comply with EEOC and applicable regulations despite the seasonal rush
Training, including digital onboarding, the distribution of policy guides, and more
Working with a PEO helps everyone by freeing up your permanent staff, who might have otherwise gotten bogged down by participating in interviews and training new workers on the basics. It gives new hires more resources and guidance when starting. Instead, more of your team can stay on the floor or at their desks, ensuring customers get the service they need and tasks are completed on schedule. Then, when your seasonal staff has been adequately onboarded, your teams can streamline any remaining training details.
Standardize Hiring Processes
Standardized practices matter even when your peak season is suddenly in full force. Here's why:
Your hiring practices must comply with fair hiring norms and regulations. You must also correctly identify seasonal staff as temporary staff (especially if you're not in a right-to-work state).
Timekeeping and payment matter more than ever. Not only will you have a lot of new staff that needs to be on the payroll, but you'll also find yourself paying overtime for some of your employees, giving holiday pay to others, and marking down plenty of PTO around holidays or vacations. Your records stay clean and organized by standardizing your practices and relying on third-party professionals. That ensures you pay everyone on time (a must during the holidays) and have your 2023 financials in order before 2024 arrives.
Build processes that grow with you. Investing in the fundamentals of good, standard practices and onboarding processes now will help you during future windows of hiring and managing seasonal workers.
Make sure your new staff hits the ground running. That may be the critical benefit of standardization. Standardized training processes ensure your new workers know how to perform their primary tasks and manage job responsibilities, helping them immediately provide value for your organization instead of being another distraction for your permanent staff.
Make Onboarding More Efficient
Working with a PEO makes the entire onboarding process more efficient. The organization can compile your onboarding resources or create them on your behalf. Then, they can distribute them to new workers, explain your policies, and get confirmation that everyone has the information they need. You don't have to double-check the onboarding process, either—PEOs can audit the process to ensure no one is left behind or under-informed, and your HR stakeholders will be notified when everything is complete. With the right HR tech from PEOs, your new employees can input their data themselves instead of your team managing extra manual data entry.
PEOs Give Time Back to HR Teams
Whether you have an in-house HR team that is already busy with general and end-of-year tasks or you make do without dedicated HR staff, a PEO can fill in the gaps to manage the workload or do everything for you. A PEO can handle all your tasks regarding seasonal workers, like managing paperwork, recruiting and filling positions, and all the admin tasks for payroll and reporting. Then, your internal employees can continue to focus on comprehensive training strategies, addressing staff needs, and starting 2024 on track.
Power Your Next Seasonal Hiring Project With Support From a PEO
PEOs can power more than your seasonal staffing needs. The proper partner organization can manage retirement administration and benefits, open the door to new healthcare program options, and support payroll for your permanent staff. Supplementing your current HR team with everything a PEO can bring to your organization can open your company to many opportunities, cost savings, and streamlined work to help you thrive, regardless of whether it's your peak season or not!